PureLink HOF 2.0 Tx

HDMI 2.0, IR, RS-232 over 1 Fiber Transmitter - Ultra HD
This product has been discontinued
Top HOF 2.0 Tx Specifications
Compliance: HDMI 2.0, HDCP 2.2
Data Rate: 18 Gbps
Supported Resolutions: up to UHD/4K@50/60Hz (RGB 4:4:4, YCbCr 4:4:4, 4:2:2, 4:2:0)
Supported Distance: up to 3300 ft. over single-mode fiber up to 1000 ft. (300 m.) over multi-mode fiber
"Excellent experience - thank you for all your help"
Contact a product specialist!
Proudly supporting our customers since 2008
Description
Ultra HD/4K HDMI 2.0 Over 1LC Fiber Extension Transmitter
Introducing the latest in Range Extension system technology over 1LC Fiber from Purelink. The HOF 2.0 Tx is a powerful Transmitter solution that offers long-distance distribution of 4K/60 video, audio, and control signals over fiber at 18G speeds. This modular Fiber Optic extender for HDMI gives users to the ability to send top of the line video and audio signals up to 3,300 feet over a single-strand, LC terminated fiber optic cable. For control signals, this unit also is capable of sending RS-232 as well as bi-directional IR signals. Utilizing PureLinks TOTALWIRE LC-Terminated fiber optic cables, users benefit from clear transmission signals and pure fiber connections to provide protection from electromagnetic interference (EMI), thus delivering a lossless transport for optimal signal quality.
Key Features:
4K@60Hz (4:4:4) / 18Gbps / HDCP 2.2
Extends up to 3300 ft. (1000 m.) over 1 LC single-mode fiber
Dolby® Atmos, DTS-HD Master Audio, LPCM 2/5.1/7.1
Bi-directional IR, RS-232
Real-time Auto-EDID management
Auto signal correction and enhancement
Immune to EMI
1 LC SFP Modules
Locking power supplies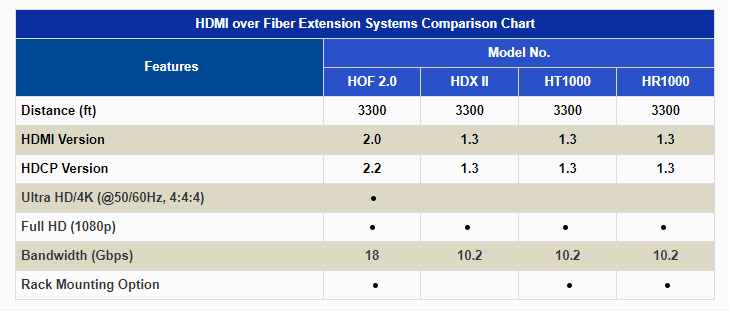 Specifications
Color Depth: 8/10/12-bit
HDR Support HDR10 (4K/60, 4:4:4), Dolby Vision (4K/30, 4:4:4)
Transmitter Input Type: (1) HDMI Type A, (1) IR IN [3.5mm stereo jack], (1) RS-232 [Phoenix]
Transmitter Output Type: (1) Optical Fiber [LC Female], (1) IR [3.5mm stereo jack]
Supported Audio Formats: LPCM 2/5.1/7.1 Ch, Dolby Digital+, Dolby TrueHD, Dolby Digital, Dolby Atmos, DTS:X, DTS-HD Master Audio, DTS 5.1
Power Supply Input: AC100 240V 50/60Hz
Output: DC 24V/1A (US/EU standards, CE/FCC/UL certified)
Power Consumption: 3W (max)
Dimensions: 3.9" (W) x 2.5" (D) x 1.0" (H)
Weight: 0.5 lbs (0.26 kg)
Warranty: 2 Years
Q & A
This product has no questions -
ask one!
Reviews
There are currently no reviews for this product.