AMX HPX-N100-USB
USB Module for HydraPort
The AMX HPX-N100-USB module provides a single USB connection to the HydraPort chassis.
1 HydraPort Unit
Front: Female USB Type A connector
Rear: 6' 6 3/4" Cable to male USB Type A connector
This product has no questions -
ask one!
Ask a Question
There are currently no reviews for this product.
Review Product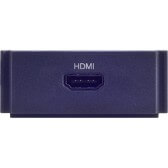 AMX HPX-AV101-HDMI
Single HDMI Module with Integrated 6' Cable
AMX HPX-N102-RJ45
Dual Data Connector Module for HydraPort
AMX HPX-AV102-RGB+A
RGB with Stereo Audio HydraPort Module